Kids Can Sew® - Skill Level #1 Book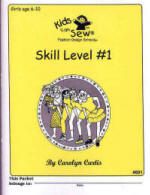 Teaches fabric layout, cutting, elastic casings, hemming, facings, and much more.

Patterns: Back Slit Denim Skirt, Square Neck Blouse, Nightshirt, Pants, Round Neck Blouse, Shorts, Sewing Bag, Peasant Nightgown, Peasant Blouse and Small Bag.

Includes: Directions Booklet with full-sized, multi-sized Patterns, sized Child 6-16. The patterns in this packet will generally fit ages 6-13.

PATTERN SIZE-CHILD: Chest: 25" to 36" Hips: 26" to 38"
$ 42.00